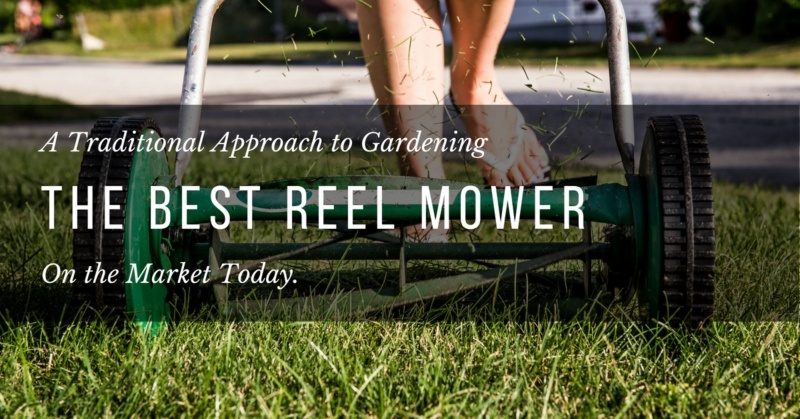 What stands between you and a perfect lawn? Your grass going wild! What can you do? Mow your lawn to perfection with the best reel mower! After that, all you need to do is take out a rocking chair, lay back with your favorite book or magazine and a glass of a cold drink and enjoy the fruits of your labor- a perfectly symmetric, gloriously green lawn!
Choosing The Best Reel Mower
Why Choose Reel Mower?
We all know how rapidly the technology develops nowadays, and the world of lawn mowers is no exception. The modern mowers look like spaceships and are advertised to be almost self-sufficient, but do you really need all that technology that can malfunction at any time and leave you with a half-trimmed lawn? We say NO!
It is better to forsake all the electric, battery-powered and gas mowers and opt for a traditional, eco-friendly, reel mower. These classic machines might have been invented in the previous century, but they are still going strong as ever. Why is it so? Well, they have a few advantages worth mentioning:
1. Good for your health as well as the health of your lawn
You might be a bit skeptical and wonder how in the hell can a reel mower be good for my health, but we assure you it is really so and will explain it. First of all, you need to hand push the reel mower, and that requires physical effort.  Afterall, pushing the mower will not be very easy as the rotating blades will provide resistance. In fact, pushing the reel mower for twenty minutes will burn you about 150 calories, or approximately 30% more than you would burn when using the gas push mower. Therefore, using a reel mower makes for a great exercise and fat-burning activity!
As far as the health of your lawn is concerned, reel mowers are also a better choice than rotary mowers, and there are environmental horticulture studies that prove it. Namely,  the reel mowers cut the grass like scissors, unlike the rotary mowers which shred the grass blades. In that way, the tissue is less damaged, less water is lost, and the plant goes under less stress. Furthermore, the grass is less prone to diseases and even looks better when you use a reel mower to keep it in check!
2. Low maintenance
In the hectic modern world, we appreciate every free moment we can get a hold of and thus tend to choose things that do not need a lot of our attention- the great news is that a reel mower is exactly such a machine! It really requires minimal time and effort to be maintained. You need to lubricate it from time to time and sharpen the blades every couple of years and that's it!
3. Low Noise Level
Do not expect the soundless operation, but in comparison to the smelly and noisy gas mower, the reel mower will feel like music to your ears. The sound it produces is most often described as the gentle snipping, and no one seems to be bothered by that!
Unfortunately, it is not all bells and whistles! There are actually a few downfalls to using the reel mowers we need to mention as well if we want to be objective- and we always strive to be!
Using a reel mower on a large lawn can be quite tiresome. If your lawn is larger than a quarter of an acre, do not even try it! In the spring the grass grows very quickly, and the temperatures can be pretty high, so mowing a lawn this big can really exhaust you and cause health issues rather than resolve them.
Secondly, using a reel mower requires great diligence and keeping to a strict schedule. If you allow your grass to overgrow reel mower will not be able to cut it but rather just push it down and roll right over it. You also need to remove all the leaves or twigs from your lawn before using the reel mower, so if you have a lot of trees on your property it is not the greatest option for you!
Finally, if your lawn is nowhere near flat, it is best to avoid a reel mower altogether. Bumpy lawns will prove to be a nightmare for a reel mower as the wheels will lose the contact with the ground, and the reel will not turn and cut the grass evenly. As a result, the grass will be cut unevenly, and there will be spots completely unmowed. It is also impossible for a reel mower to cut the grass in tight spaces such as near the fence or walls, so take that into consideration as well.
How To Choose The Best Reel Mower For You and Your Lawn
If you have carefully read and understood all the advantages and disadvantages of using the reel mower and you have decided that it really is the best choice for you and your lawn, you should now try to find the best reel mower on the market that will suit your individual needs. We will, therefore, list all the criteria that separate reel mowers from each other:
How high/low can it cut the grass?
Every reel mower can cut the grass at the specific height. Most of them can go very low (up to half an inch), but be careful with this feature as cutting the grass too low on a hot summer day can cause it to burn and permanently ruin your lawn.
It is more important to look for a mower that can cut the grass as high as 2½ inches as to avoid damaging your lawn. Therefore when purchasing the reel mower make sure it can be adjusted to the height you need.​​​​​​​​​​
How wide is the mower? How much does it weigh?
The width of your lawn mower will influence the time you need to mow your lawn. In fact, the wider a mower you buy, the more length per run you will be able to cover. However, wider reel mowers will be heavier too so take that into consideration as well.
Weight can be an issue if you are not very fit and tend to tire out quickly. A wider blade is heavier, so when picking a lawnmower, make sure that the specific blade length fits you and your constitution. If you own a rather big lawn, it might be wise to find balance between a cutting performance and weight.
How hard is it to push?
Besides weight and width, wheels will have a great influence oh how easy or not your reel mower will be to push. The wheels should provide stability, but also be able to turn the reel without too much resistance.
Is it suitable for your type of grass and terrain?
The type of grass on your property greatly influences  the type of reel lawn mower you should buy. Thick, strong, grass calls for thicker blades, while light grass can do just fine with lighter mowers.
The slope of terrain should be considered as well. A flat lawn can be handled by any reel mower , but sloped and bumpy one can prove to be quite a challenge for most of the mowers. In such a case, you should find a reel mower able to cut at any angle.
Is it durable?
The durability of the reel mower is influenced by the quality of the materials it is made from. All- metal construction is usually the most durable, but also tends to be the heaviest option.
Special attention must be paid to the blades, as they will dull after certain usage. The reel mower with durable blades is, therefore, a priority.
The Best Reel Mower You Can Currently Buy
As we have already said, finding the best reel mower is influenced by your personal needs and type of grass and terrain of your lawn. Therefore, we have picked out five best options so that you can choose the best reel mower for your needs:
1. Fiskars 18 Inch Staysharp Max Reel Mower
Price on Amazon: [amazon_link asins='B0045VL1OO' template='PriceLink' store='gardeningwizards-20' marketplace='US' link_id='935cce66-1635-11e7-bbf8-13d3034b13b5']
Fiskars 18 Inch Staysharp Max Reel Mower is the most expensive reel mower we have reviewed, so if you are on a tight budget, you might want to skip this review and move on to the next one. Fiskars is a Finnish company specialized in designing high-quality scissors, but also some impressive lawnmowers. The model we are receiving here is very powerful and can handle not only thick grass but also leaves and twigs it comes across.
The InertiaDrive reel technology actually means that this reel mower has a cutting reel with a larger- diameter, but also heavier blades than the ones found in similarly priced models and can thus handle the thick grass and twigs we have already mentioned.
Next, Proprietary VersaCut technology allows for the blades to cut the grass evenly regardless of what type or how thick it is.  There is less internal friction as well. The blades on this reel mower are made from hardened steel and ground with great precision which means that they do not need to be sharpened very often and will be very durable too.
The mower is quite easy to push, especially once you adjust the height correctly. And, speaking of the height, we must say that this is a rare model that allows you to set the height from one to four inches (quite simply, we must add). Other features that add to the good maneuverability are the ergonomic, looped handle and the wheels positioned on the inside of this reel mower. The cutting deck is 18 inches wide, which means that you can mow your lawn in less time.
The clippings are thrown in front rather than back at your feet, and although they do jam occasionally, it is a rare occurrence.  Weighing 52 pounds, it is rather heavy, which can be considered a fault. However, the extra weight actually allows it to run more smoothly once you get it going.
Things We Liked
---
Things We Didn't Like
2. Great States 815-18 Push Reel Lawn Mower
Price on Amazon: [amazon_link asins='B0007ZK5V2' template='PriceLink' store='gardeningwizards-20' marketplace='US' link_id='935cce66-1635-11e7-bbf8-13d3034b13b5']
If you are searching for an affordable reel mower, Great States 815-18 Push Reel Lawn Mower is definitely worth considering. It features 18-inch cutting width, the same as the previously reviewed Fiskars model, at almost half of the price. It is more suitable for flat lawns with no trees though, but do read on to find out more.
The height can be adjusted from half an inch to a little less than three inches. The cutting is rather effective as it cuts the grass very evenly and only misses the extra thick stems. However, it is not powerful enough to handle any twigs, and therefore you will need to take some extra time to rake the lawn before you start mowing it with this reel mower.
Weighing only 27 pounds, it is very lightweight and easy to push which makes it convenient for ladies and children too. The 10-inch ball bearing wheels with radial tread tires provide enough stability though. It can handle even the sloped and bumpy terrain with almost no problems. Extra tall grass might prove an issue though, so do not let the lawn overgrow in order to avoid jamming. Another downfall is its inability to handle tight spaces and corners due to the large distance between the wheels and the blades.
The powder coated finished handle is very sturdy but also ergonomic and comfortable. The Great States reel mower is also easy to assemble and easy to store- you can even hang it on the wall in your garage.The five spider blades are heat treated and do not require to be sharpened very often. It is rather quiet when operating as it produces only a whirring sound as it cuts the grass.
Things We Liked
---
Things We Didn't Like
3. Fiskars StaySharp Max Reel Mower
Price on Amazon: [amazon_link asins='B01N7K4BNX' template='PriceLink' store='gardeningwizards-20' marketplace='US' link_id='935cce66-1635-11e7-bbf8-13d3034b13b5']
The Fiskars company offers an extensive line of lawn mowers of high-quality, and therefore this is the second reel mower of this brand that we will review. This mower once again proves the quality and exquisite performance are worth paying a few extra dollars for. We also have to note and praise the modern design of this mower.
This reel mower features sturdy construction and the same Staysharp Cutting Technology as the previously reviewed model. It thus cuts the grass uniformly and efficiently without the need for the blades to actually touch the grass. Therefore, you will not have to sharpen the blades for a very long time which makes this mower almost maintenance-free.
Another great feature of this reel mower is the unique handle design. Namely, the  handlebar is not horizontal like on most mowers. It is a bit hard to describe, but the handlebar makes use of constant loop elongated design and due to it features both horizontal side (great for thick grass as it creates better traction) and vertical side (better for short grass). The handlebar height can be adjusted as well.
The VersaCut Technology allows you to adjust cut height rather simply from 1 to 4 inches. The cut quality is even and consistent, especially once you get the right blade arrangement. This reel mower is renowned for being able to handle almost all varieties of turf as it can cut through both the softest and the thickest grass with equal success.
The inset wheel design enables this mower to cut very close to edges of lawn and handle tight spaces quite successfully. The grass discharge chute tosses the grass clippings to the front too. On the downside, like many other mowers, this reel mower has not performed great when cutting wet grass. Very tall grass also caused some problems. It is a bit cheaper than the previously reviewed Fiskars model, but still rather expensive.
Things We Liked
---
Things We Didn't Like
4. Earthwise 1715-16EW Push Reel Mower
Price on Amazon: [amazon_link asins='B01LYVKRI9' template='PriceLink' store='gardeningwizards-20' marketplace='US' link_id='935cce66-1635-11e7-bbf8-13d3034b13b5']
Earthwise 1715-16EW Push Reel Mower is a specially designed seven blade mower which is best used for common and hybrid Bermuda, zoysia, centipede and other bent grasses. If your lawn is covered with one of these varieties of grasses- this reel mower might be a great choice for you!
The Earthwise reel mower is easy to assemble- it only takes ten minutes. It weighs only 26 pounds, so it is easy to push around and handle even for people who are not very fit. It is easy to store as well as it can be hanged on the wall too. This mower is rather quiet when working so that you can use it at any time of the day without the fear of waking up or disturbing your neighbors.
The cutting width of 16 inches makes it easier to maneuver, but also adds a bit time to the lawn mowing process. It is, therefore, more suitable for little lawns, or people of the smaller constitution that find 18-inch wide mowers too hard to push. The blade height can be adjusted from half an inch to two inches and a half. The reel of this mower is made of tempered alloy steel.
On the bright side, the reel turns very fast, even faster than the Fiskars reel (when keeping the same walking pace of course). The seven blades make sure that a single-pass is always sufficient as no grass blade is ever left standing. There are rollers on the back that keep this mower leveled and allow it to handle uneven areas successfully as well as the landscape edging.
In short, this reel mower looks and feels very well made. It is sturdy and appears durable. It handles thick and wet grass very well. The handles could be slightly wider for a more comfortable grip. As most of the reel mowers, this mower cannot handle overgrown grass very well.
Things We Liked
---
Things We Didn't Like
5. Sun Joe MJ502M Mow Joe 20-Inch Manual Reel Mower
Price on Amazon: [amazon_link asins='B0072CTQWC' template='PriceLink' store='gardeningwizards-20' marketplace='US' link_id='935cce66-1635-11e7-bbf8-13d3034b13b5']
Sun Joe MJ502M Mow Joe 20-Inch Manual Reel Mower is a budget-friendly option and the only reel mower reviewed here that features a catcher that will leave your lawn perfectly clean from grass clippings after you finish mowing. This grass catcher can hold up to 6.6-gallon and is easily detached for cleaning. This reel mower also features the largest cutting width (20 inches) and allows you to finish the job in the least time which makes it perfect for large lawns.
Although it is rather wide, it still does not weigh too much (30 pounds) and can be handled without too much effort. Even the ladies can have a go. It is easy to assemble and use. Once you are done mowing, you can remove the handle and store it easily as well due to a rather small footprint.
The construction seems rather sturdy and durable. On the other hand, wheels appear to be the weak point of this unit. Namely, the wheels feel wobbly and it seems that they will come off rather quickly. It might not be a too complicated problem to fix but can still cause discomfort. The handle is also problematic as it feels flimsy as well. There are two large 10-inch wheels, and two small 6-inch wheels the mower is rather stable.
On the bright side, the blade height is easy to adjust by using a 9 position height adjustment lever which gives you perfect control over your grass. The height can be set to up to 2.4 inches. The blades are made from hardened steel and quite sharp and durable. It cuts the grass rather uniformly as well unless it is overgrown of course. Keeping your grass low will save you from hard labor. The unit is easy to maneuver as well, even on the uneven terrain.
Things We Liked
---
Things We Didn't Like
Conclusion: Announcing the Best Reel Mower on the Market Today
Choosing the best reel mower depends on many factors, and some of them are rather personal. Therefore, all of the reviewed reel mowers can be the best choice for someone among all of you. We give our vote to the Great States 815-18  Push Reel Lawn Mower. It is made in the USA, has two years of warranty and appears rather durable. It is also easy to use and maneuver. In fact, besides the faults that are common for all the reel mowers, it has very few things you could complain about.
Whatever reel mower you choose the earth will thank you for the eco-friendly choice, and your neighbors are sure to be thankful for the lack of noise as well!