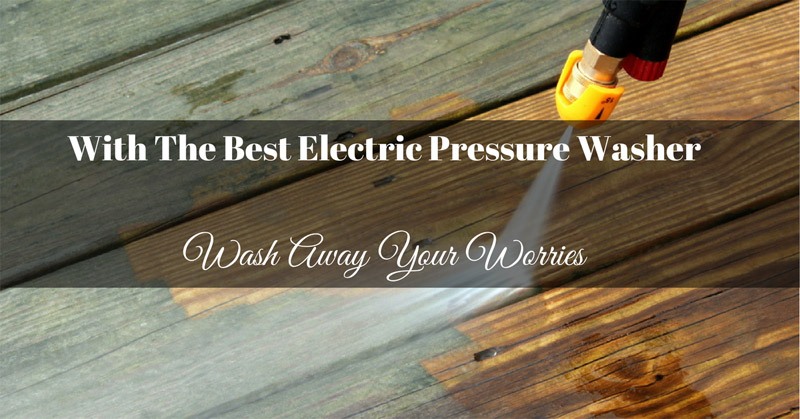 Horror movies are nothing compared to motor oil stains on the driveway, yucky mildew on the deck, carbonized cookout waste on the grill… Yeah, you can just imagine yourself working for hours to get rid of these nuisances, and then wanting to get rid of the back pain for days after. You would love to live without that sort of pressure, right?
Well, don't worry. There is something that can make all of these problems become water under the bridge, and that is an electric pressure washer. However, before you go ahead and buy the first product you come across to, you should read our buying guide and reviews to find the best electric pressure washer on the market, or else you'll end up with your money being washed away.
[amazon box="B00CPGMUXW, B00LX8Z03K, B01M28PENA, B00N6XBM64, B015JBT0BO" template="table" ]​
Best Electric Pressure Washer
How Does a Pressure Washer Work?
​
To get one thing clear at the very beginning, there are two types of pressure washers on the market, one is gas-powered, and the other one works by using electricity. This time we'll be discussing the latter one.
An electric pressure washer works by using an electric motor to power a pump, which consequently forces the water at high pressure through a nozzle. This way accumulated stubborn grim on outdoor surfaces (e.g. patio, deck, driveway) is quickly blasted away without investing as much effort as you would with a hose and a cleaning brush.
Can Using It Be Risky?
​
This is an essential question to ask when it comes to all devices that use electricity, but also to those machines that are very powerful, but the answer isn't as simple as yes or no.
The nozzle of a pressure washer shoots water at 30 to 80 more pressure than your ordinary garden hose, and it has very strong cutting capabilities regardless of the spray setting you're using. Electric models usually put out 1,300 to 1,700 psi (pressure measured in pounds per square inch), which is powerful enough for household use, but not nearly as risky as gas-powered models that can put out up to 2,800 psi. In the last couple of years, however, there has been quite a revolution in the electrical power washers field, so now we have significantly more powerful models.
When used on sensitive surfaces, pressure washers can do extensive damage, so it is important to be very careful when washing your car, glass surfaces, etc.
Best Use of Electric Pressure Washers
​
Electric pressure washers are ideal for some light-duty cleaning jobs, meaning that they cover a huge chunk of outdoor cleaning tasks you can have in an average household.
If you have troubles cleaning your patio, outdoor furniture, small deck or driveway, an average electric model should cover most of your needs, but only if you choose it well.
Things to Consider When Choosing an Electric Pressure Washer
There are various things to keep in mind when selecting an electric pressure washer and those are the factors that can determine how efficient your machine will be and how satisfied you will be with it. Here are some of the most important things to consider before you make the transaction.
Size
The size of the machine you should buy largely depends on the tasks you are going to perform with it. If you need it only for home use and chores like washing your car, outdoor furniture, small decks, patios and grills, compact size will be quite enough for you.
On the other hand, if you need it for more demanding jobs like washing boats, vehicles, fences and large decks, you will need an overhead cam or an overhead valve engine with heavy duty frame and large wheels.
Remember that smaller washers are always more portable, so if you are planning on carrying the around, smaller is better.
Power
Two critical ratings reflect the cleaning power of the electric pressure washer. One is water flow rate measured in gallons per minute (gpm), and the other one is the pressure which is measured in pounds per square inch (psi).
Although a machine with lower ratings can do pretty much anything a more powerful machine can, an engine with higher ratings will get the job done faster. On the other hand, small differences in pressure (e.g. 200 psi) won't make a huge difference in the machine's performance.
Hose
The hose plays a critical role in how easy it will be for you to use your pressure washer. It is sufficient enough that hoses are difficult to hassle because of the high pressure, and you don't have to choose the most stubborn and stiffed hose out there.
Search for the hose that is flexible and unrolled easily. Also, it shouldn't retain a lot of coil memory. Avoid bulky and thick hoses that keep much memory, which makes them difficult to use and store.
Nozzle
There are two types of pressure water nozzles: dial multi-spray pattern and individual snap-in nozzles. Although there is no definite difference in the performance, the dial type is more convenient to use since you don't have to change the nozzle each time when you are using it for a different purpose.
Is the Pressure Fixed or Variable?
When choosing pressure washers, you will encounter a significant number of those that always operate on maximum pressure. However, there are some that allow you turn the pressure down, which can be very convenient when cleaning more sensitive surfaces.
Is Soap Tank Included?
If the surface you are about to clean is very dirty or greasy, you will get the best results if you pre-treat it with pressure washer soap.
Some pressure washers include an onboard detergent tank which sounds like a pretty great idea. However, it can turn out to be quite a nuisance, since you have to refill the tank on large jobs. And afterward, you have to clean it out because dried soap can damage the pump.
And now it's time to check out what does the market offer do the following five products meet your demands.
Five Best Electric Pressure Washer
[amazon box="B00CPGMUXW, B00LX8Z03K, B01M28PENA, B00N6XBM64, B015JBT0BO" template="table" ]
If we start with the power, we would see that the Pressure Joe puts out significantly more pressure than it is average for electric washers. With 2,030 psi and 1.76 gpm, this is a fairly powerful machine that can make most of your outdoor cleaning tasks a breeze. The whole system is simple to maneuver and move around the backyard.
There are several immaculate features the manufacturer can be proud with. First is the Total Top System which automatically shuts off the pump when the trigger isn't engaged and thus saves energy. The five quick-connect spray tips that can tackle easy, medium and challenging cleaning task are really convenient and easy to switch.
The machine also includes dual detergent tanks which can carry different types of soaps and they allow you to switch between different detergents quickly.
Because it is more vertical than horizontal, the machine is very easy to store, which is a big plus if you have limited garage space.
As for the downsides, the machine seems to be built from cheap materials and the assembling can be quite tricky.
---
What we liked:
A really powerful machine
It includes a cord-lock system, so you'll have no problems with tangled hose
You can use two detergents simultaneously
---
What we didn't like:
It doesn't look like it is built to last
Assembling is a hassle since it comes almost entirely disassembled
​
Another Sun Joe product on the list, this pressure washer has the same power as the previous entry (2030 psi and 1.76 gpm). It uses the same principle for saving energy as the SPX3000 and also includes onboard reel that keeps the high-pressure hose nicely organize when you need to store the machine.
Unlike the SPX3000, it doesn't include a dual soap tank, but a regular one. This means that you won't have the same advantage of switching between the detergents, but you will have the same hassle when it comes to cleaning the tank. The 34-inch extension spray wand and rear wheels come in handy for cleaning hard-to-reach areas like undersides of a car, underneath decks and gutters.
The position of the hose reel is a bit odd, since it is on the top of the unit, and you have to be careful when unreeling it, because if you pull too hard, it will topple over. It could use a power cord reel too.
The Sun Joe SPX3001 can be somewhat substantial, measuring 31 pounds. So, if you are not very physically fit you may have a touch of inconvenience when lifting it up the stairs or carrying it around different areas where it can't be rolled.
---
What we liked:
The pressure output is great
The hose reel is a good idea
The extension wand is ideal for cleaning otherwise unavailable areas
---
What we didn't like:
The reel is in a bad position
The soap tank 's hard to clean
​
Even stronger than previous two entries, Arksen 3000 puts out a pressure of 3,000 psi and water flow rate of 1.7 gpm. This means that it can tackle some more demanding tasks, such as cleaning larger vehicles (e.g. trucks and boats).
The best thing about it is that it allows you tailor the pressure according to your needs and sensitivity of the area you are cleaning. The wand provides with sufficient maneuverability so that you can reach some otherwise unavailable areas.
The package includes five interchangeable nozzles for high and low-pressure wash, and axle mounted wheels for great mobility. The power cord has a built-in cord wrap. It is also very compact, so you are basically getting a professional pressure washer that you can easily fit in one corner of your garage.
The price is below average for such a powerful unit, and it even comes at a lower price than some of the entries on this list with significantly lower pressure output.
On the downside, the built material isn't of satisfactory quality and the motor can be noisy sometimes.
---
What we liked:
Variable pressure allows you to wash the sensitive surfaces too
The wand works great in hard-to-reach areas
The wheels make moving it around easier
It offers great value for the money
---
What we didn't like:
The motor is loud
There is no reel for the hose
When compared to the previous products we've reviewed the AR390SS looks much better design-wise, but let's see how it holds up when it comes to performance. The pressure output is far lower than the one of Arksen's machine, as it puts out only 2,000 psi. However, you will not notice a significant difference in power from the first two products.
The package includes a lot of attachments, such as pressure washer gun, detergent tank, four pressure washer nozzles and pressure washer hose. The wand looks very durable and the attachments, in general, work rather well. The unit is very easy to assemble, and you can use it in a matter of minutes.
Although it is an excellent product for domestic use, it has some flaws that shouldn't be ignored, first of them being the not-very-flexible hose. The hose is tough to handle. It is stiff, bulky and tends to kink and coil. It also has the similar problem as SPX3000 with the reel being on top of the machine which makes it prone to the unit flipping over.
Still, it is not a bad product at all, but if you have a lot of dirt built up on your deck or concrete, or you live in an area where debris and pollen may lay heavily on the surfaces, you may need more power than just 2,000 psi.
---
What we liked:
The design is great
The attachments work fine
It is easy to assemble
---
What we didn't like:
The hose is not flexible
The hose reel shouldn't be on the top of the unit
With the pressure output of 2,200 psi and water flow of 1.8 gpm, this is a decent unit capable of performing the basic outdoor cleaning tasks. The machine looks very compact and easy to carry around.
The Ivation's package offers five different interchangeable nozzles and a bonus turbo wand. The copper connections make all the attachments easy to set up and use. This machine also comes with an onboard nozzle storage to store the attachments, which is convenient but not necessary.
Just as the Sun Joe's units it is also equipped with Total Stop System that enables it to turn off when it's not used. Furthermore, it includes self-suction (optional) and soap dispenser.
The self-suction is an innovative option since it allows you to use standing water (tank, basin or well) if the garden hose isn't available.
However, Ivation's product isn't without its flaws. The plastic components inside the handle are not built to last, and they are bound to fail after some time of using this unit. The pump is also of poor quality, and the pressure isn't consistent.
---
What we liked:
It looks and feels very compact
It's simple to assemble and use
The self-suction feature is a nice and surprising addition
---
What we didn't like:
The product isn't built with longevity in mind
The plastic handle is bound to break
The pump is of poor quality
Conclusion & Our Recommendation
To sum it all up, none of these products is a waste of money, but we are here to find the best electric washer out there. Although R Blue Clean and Sun Joe are some of the most well-known names in the pressure washer industry, this time we have to decide for the underdog that has stepped up its game and provided with a unit that is extremely powerful. You've guessed it; that is the strongest pressure washer on the list: Arksen 3000 PSI 1.7 GPM Pressure Washer. With 3000 psi and satisfactory design, it is the best you can get at this price range.
[amazon box="B01M28PENA"]