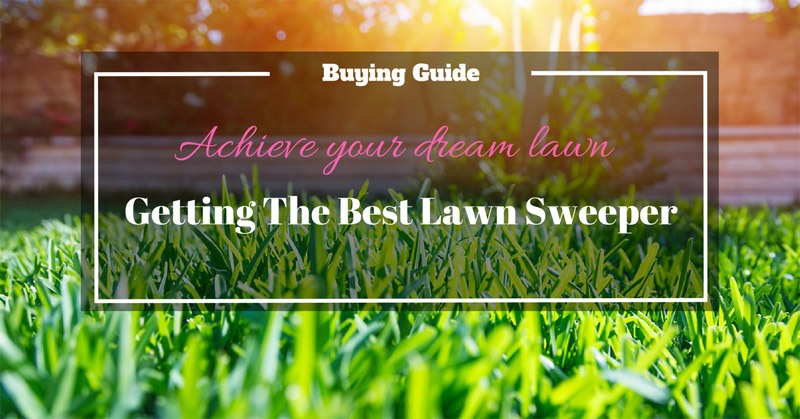 When you are a home owner, some responsibilities are a given. One of them is keeping your lawn healthy and looking good as it will most definitely improve the overall appearance of your property. But that will take some work. You'll need to regularly mow your lawn which will leave grass clipping everywhere and in the fall, leaves will cover everything. A good way to deal with that is raking; a better way would be getting a lawn sweeper.
What is a Lawn Sweeper?
Also known as a leaf sweeper, a lawn sweeper is a gardening tool that's a much more efficient alternative to rakes and leaf blowers. It will remove all sorts of debris, be it leaves, twigs, pine needles and even some types of rubbish that may end up on your lawn.
A lawn sweeper is a mechanical gardening tool with wheels which uses rotating brushes – those brushes sweep up all the debris from your lawn. While doing that, the brushes push it towards and into a collection container, called a hopper. There's no gathering everything in little piles all over your lawn and then shoving it in plastic bags manually, as you would with a rake. The lawn sweeper does everything for you.
Types of Lawn Sweepers
Three different types of lawn sweepers are available for you to choose from, depending on your personal preferences and needs.
Push lawn sweepers
This type of lawn sweepers is completely hand-powered. What this means is that, as with manual lawn mowers, you'll be the source of its power and maneuvering. As you push the lawn sweeper forward, the wheels transfer the generated power to the brushes, which in turn collect the debris into the hopper.
You'll be doing all the work yourself, but with a little help from your sweeper - still better than using a rake. These have some advantages, though. First of all, there will be no noise, as there is no motor. The absence of the engine also means that the sweeper will be very lightweight and that the maintenance will be super easy.
If there are no complicated parts, you won't have to worry about them malfunctioning. This type of lawn sweepers is ideal for smaller properties, while larger estates might demand a different kind.
Powered Lawn Sweepers
Even though these do resemble the push lawn sweepers in nearly everything, the main difference is in what powers the brushes. Here, there is a motor powered by either gas or electrical energy. If the model is self-propelled, it will move on itself at speed comfortable enough for you. But, since these have a motor, they will be significantly heavier than the hand-powered ones and loud.
Even though they do all your work for you, you still need to maneuver it around, and due to their weight, that can sometimes be quite hard. These are ideal if you have a larger lawn and wish to be done with your gardening work quickly.
Tow Lawn Sweepers
As the name suggests, these lawn sweepers are the ones you tow by a vehicle, probably a garden tractor or a riding lawn mower. They work as an attachment to a gardening vehicle. These are ideal for large properties as they are characterized by their width – they are mostly over 40 inches wide, so they cover a larger surface area and collect way more debris than the other two types of lawn sweepers.
If you already own a gardening vehicle, this is the lawn sweeper for you; if not, unless you plan on buying one, this one is not for you.
Why should you get a Lawn Sweeper?
Yes, you could do the removal of debris with something more simple like a rake, but there are way too many benefits of using a mechanical gardening tool such as a lawn sweeper.
It saves your time
As you might know, raking takes a lot of time – first, you use the rake to collect all the leaves and other debris into piles and then you need to bag it. It can take hours out of your afternoon. To keep your lawn clean, but still have some time to relax after, you should get yourself a lawn sweeper of any of the types mentioned above. The work needed to keep your lawn looking good will always be there, it's up to you to make it easier on yourself by buying a lawn sweeper.
Doesn't require as much physical effort
You're probably used to garden work taking a toll on your body and consider that a given. In some cases, that might be true, but when it comes to lawn sweeping, there's no need to wear yourself out with using the rake, when you can use a lawn sweeper. It's a well-known fact that raking leaves you tired, with a sore back and even possible blisters from gripping the handle hard while you're working.
Do yourself a favor and using our guide, pick out a lawn sweeper that will make everything a lot easier. Your back will be beyond grateful to you.
Top 5 Best Lawn Sweepers on the Market
The Verdict – The Best Lawn Sweeper Is…
Now that we've gone through the list of the top 5 models available on the market, it's time to weigh in on the pros and cons of every one of them, to decide who gets to be called the winner.
There are a lot of factors to include in this decision, money being one of them. If you would like to buy a lawn sweeper that is budget-friendly, opt for a hand-powered one. On the other hand, if you wish to go all out, go for a high-quality, sturdy tow sweeper. Another factor to include in the decision-making process is the size of the lawn you'll be working on – not every yard demands a lawn sweeper over 40 inches wide.
Even though it was hard to decide, in our opinion, the winner is Brinly STS-427LXH Tow Behind Lawn Sweeper. But no matter who we proclaimed is the best on this list; it's up to you to decide which product will work best in your situation.