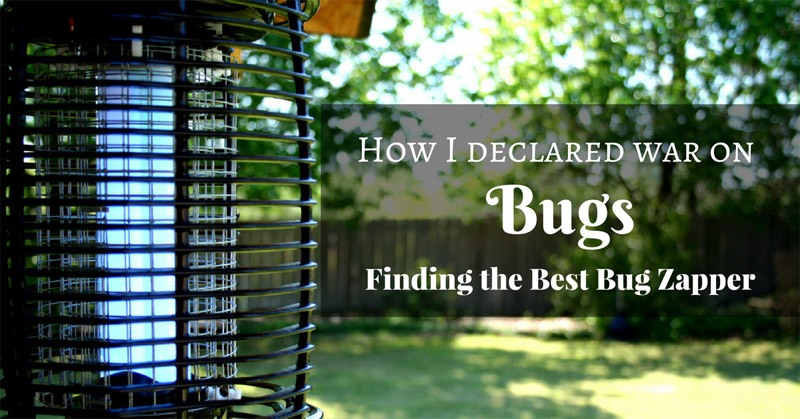 I truly love summer. The heat, the Sun, gentle breeze on your skin – no other season can compare. Summer nights are my favorite. If you ever had a chance to get out of the town, find a river and gaze at the stars, you've experienced the blissful peace.
Unfortunately, during the summer my sworn enemies rise. Mosquitoes. Flies. Moths. All sorts of bugs. I am not the kind of girl who is afraid of them. The problem is, they find me adorable, even irresistible. They like to hang out around me, and often they decide to take a closer look. Like, really close. They bite me. That is not just an average amount of bites – let's say you get one to five bites per night, well I get at least ten.
Now imagine the swollen skin, red spots, and itchiness. If there is anything that can destroy a perfectly good summer night, it is this. One summer I decided I have had enough.
That's how I became an expert on bug zappers. Using any chemical based solution, was not an option for me, so electrical zappers seem like a good idea. I even convinced the few of my colleagues from Gardening Wizards to buy different models so that we could decide on the best one.
I will present you our findings with the hope that it will help all of you out there who share my destiny. Enjoy!
*Below, you'll find our more detailed reviews, but you can also click the links above to see current prices or read customer reviews on Amazon.
How does a bug zapper work?
People often think that chemicals and sticky fly papers or ribbons are the only way to get rid of pests. Unfortunately, both of these ways are either harmful, messy or kind of gross. There are often bugs dropping dead all over your house, or you have a ribbon full of flies and mosquitoes hung on your ceiling. Not the decoration you've imagined, I assume.
On the other side of this story are electric bug zappers. For starters, they usually come with a simple and cleanable tray where dead bugs land, so your house doesn't get contaminated, but let's start from the beginning.
A typical bug zapper consists of following parts: housing, light bulbs, wire grids or screens and transformer.
The process goes like this: transformer supplies the increased voltage which is then applied to the two wire-mesh grids. A tiny gap, between the two grids, is, in fact, the most dangerous part for the bugs. Wire-mesh network UV light is responsible for luring little buggers towards the device.
As the insect flies into the space between the wire-mesh grids, his body completes the electric circuit. High-voltage electric current hits him, and he is killed. That is the moment when you can hear a loud zapping sound. These powerful devices can lure and kill about 10,000 insects per night.
How to choose the right bug zapper?
What is the secret to choosing the best bug zapper? We from Garden Wizards gave our best to figure it out, and now I am ready to share our conclusions with you. When you go shopping for a bug zapper, pay attention to following characteristics:
How do you plan to use your zapper?
How many square feet would you want to cover? Would you like to use it indoors, outdoors or both? If you are planning on covering a large area, you'll need a zapper with a wide radius of action. If you want to use it outdoors too, it needs to be at least waterproof, and it has to have a hook or a chain so that you can set it above the ground. If you plan to use it indoors, make sure to get rid of the chemical traps first because these two can make a dangerous combination.
Where do you plan on using it?
How many insects do you have in your surroundings? Are there many trees and bushes? Are the winters mild? If so, you'll need stronger bug zappers to protect yourself or few of them instead of just one.
Which bug bugs you the most?
What type of insects do you have in your region? Some species are not attracted to UV light so you cannot expect the bug zapper to kill them all. Mosquitoes can be a part of that problem for example, so it might be a good idea to use different types of traps for outdoors.
When do you want to use your zapper?
Every bug zapper is more efficient during the night because UV light doesn't work so well in combination with daylight. It might work to the certain level, but not as good as it would in the evenings.
How do you plan to power your device?
There are bug zappers that work on electricity, accumulators and solar batteries. This choice depends on your preference. Do you want it to be cordless or not and so on.
How many bulbs do you want?
Choose the zapper that has a few powerful light bulbs. Also, if it comes in a package with additional bulbs or if it says the bulbs are replaceable, you found your perfect model.
Do you plan on carrying it around?
It has to be portable, which means compact and lightweight so you can transport it wherever you want.
How much money are you planning to give for this product?
There is a big difference between shopping on the budget and preparing yourself to pay a little extra for better quality. In our experience, the cheapest products are often suspicious as they are flimsy or lack power while more expensive ones tend to be more effective.
Top 5 Bug Zappers on the Market
Now that you know all about bug zappers, you are ready to choose the one that suits your needs. Here are the Gardening Wizards team's picks:
*Below, you'll find our more detailed reviews, but you can also click the links above to see current prices or read customer reviews on Amazon.
1. Aspectek 20W Electronic Bug Zapper –
Easy to maintain but flickers
Price on Amazon:
If you decide to purchase Aspectek's upgraded bug zapper, you won't spend too much money, while you will get a safe, chemical-free protection from various insects. With simple instructions and ergonomic design, this 20W bug killer uses UV light bulbs to attract and destroy every bug that violates your home peace.
The plastic tray that goes underneath the device is here to assure easy cleaning. Also, this bug zapper will be completely silent while bugs are not hitting the grid, which means no annoying humming in the background. It is compact, and it comes with a chain so that you can hang it on the wall. It also makes a great night light.
However, this model might be too loud for you and your pets. Another thing is, its light bulbs tend to flicker and they often break after few months of usage. So, you should be aware that this is not the most durable product on the market. At last, the UV light won't attract many bugs during the day.
Things We Liked
---
Things We Didn't Like
2. Henscoqi Electric Bug Light Zapper –
Lightweight but flimsy
Price on Amazon:
Hensoqi's bug zapper is truly one effective, simple and safe machine. It emits a 365 nm waves which attract and kill annoying insects. Additionally, manufacturer guarantees a 90-day window for you to send the product back if you are not satisfied and get a full refund. This is an exceptional offer!
What I really liked about this bug zapper is the fact that its bulbs can last up to 8000 hours. Also, it is lightweight so you can easily move it wherever you want. Cleaning and maintenance are done within seconds. It also comes with a protective cover so that you won't burn your fingers.
Things We Liked
---
Things We Didn't Like
3. Hoont Indoor Bug Zapper –
Practical yet short-lived
Price on Amazon:
Here comes an affordable and powerful bug zapper – Hoont. If you decide to buy this product, you will get a 20W, odor-free device for indoor and dry outdoor use. It is supposed to cover the area of 6500 square feet, and it comes with a 5-feet cord.  All you have to do is plug it in and watch it do its magic.
First, it comes fully assembled, so you don't have to worry about reading instructions. Also, it is fully enclosed with a metal grid, which will protect you from potential accidents. This one has a detachable chain if you want to hang it on the wall or ceiling and it is large, so it kills many insects at once.
Things We Liked
---
Things We Didn't Like
4. Hoont Ultra Powerful Electronic Indoor / Outdoor Bug Zapper –
Beautiful and durable
Price on Amazon:
This is another Hoont's model, only much more beautiful. If you decide to go with this one, you will get a zapper with 20W UV light bulbs, 5 feet long cord, and 1 ½ acre coverage area. It will look like a nice blue-light decoration lamp for your patio or home, instead of awkward looking bug killer.
Have I already said it is beautiful? Well, it truly is, it blew me off my feet the moment I saw it. Except for that, it is durable, and there is no dealing with complicated assembly, just a simple plug in - plug out. It also covers an enormous area, which is why it's perfect for your backyard.
Things We Liked
---
Things We Didn't Like
5. SereneLife Electric Bug Zapper –
Bright and pricey
Price on Amazon:
SereneLife presents the only weatherproof bug zapper in this group. Just as all of the others it comes with a UV light, electric zapper and metal grid. However, it is much more powerful with 36-watt lamp, and it covers 5000 square feet area. Still, if you choose this device over the others, be ready to empty your pockets, because it is expensive.
As I said, you can use it outside of your house and not only on your patio but wherever you want because the water can't damage it. As soon as you plug it in, you'll notice mosquitoes slowly disappearing. The light is bright enough to be used as a lamp too.
However, it really could be more affordable. Also, it might work on flies and mosquitoes, but the tiniest bugs always manage to get away. If you are using it indoors, the lamp might be too bright for the night, which could mess with your sleep. At last, zapping is pretty loud until you get used to it.
Things We Liked
---
Things We Didn't Like
My Choice
My choice is the Aspectek 20W Electronic Bug Zapper, and the rest of the team agrees with me. It has all of the features that proper bug zapper should offer. Of course, it is a bit loud, but at least it has enough power to kill all sorts of bugs. I was a bit disappointed that it doesn't look as fancy as Hoont's or SereneLife's models, but at least I know I can count on it.
Whichever bug zapper you choose it will protect you at least a little bit, so I would say it is always better to go even with a cheap and flimsy one than without it, but this is your choice to make.
Enjoy the summer and let the bug zapper do the messy work for you!