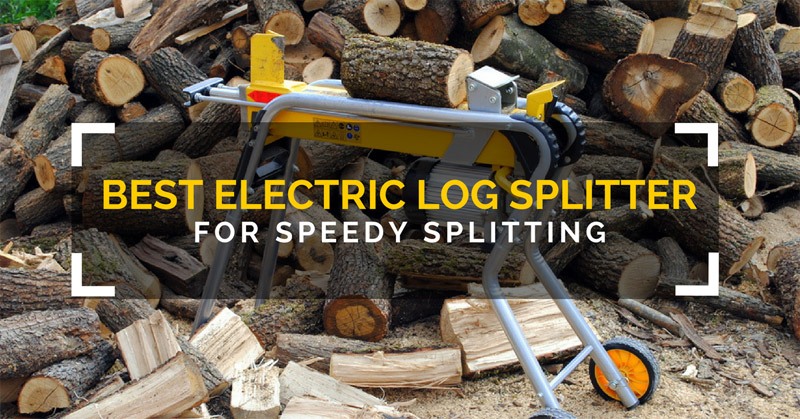 Have you ever watched those logger shows on Discovery/National Geographic/similar channels? There's something inherently satisfying about watching automated wood processing, especially when larger pieces of wood are involved. If you regularly split wood at home, whether it's for personal use, for friends or sale, there is a way to bring that satisfaction to your front yard. Electric log splitters not only look interesting while working, but they also save you a lot of time and energy so that you can have more freedom in your schedule.
However, if you're uninformed, buying something that costs anywhere from 250$ to 1500$ is a risky prospect. Most of us can't just throw that kind of money away, so it's important to know what you're looking for when you're browsing log splitters. That's what this article is for! Keep reading, as we have explanations for every relevant factor that affects a smart consumer's purchasing decision.
*Below, you'll find our more detailed reviews, but you can also click the links above to see current prices or read customer reviews on Amazon.
Best Electric Log Splitter
What Makes a Good Splitter?
Luckily for the layman, qualities that make up a great electric log splitter are easy to understand. It ultimately comes down to what kind of log the splitter can handle, how safe it is, how much it costs, the level of durability and the noise it produces. We'll briefly cover all of those:
The Workload
Depending on how large your logs are, not every splitter can fit your needs. On the other hand, picking a much larger and more powerful splitter when you don't need one is just throwing money down the drain. There are three main things to consider here: how much splitting force you're paying for, how long the logs can be, and how far the log is pushed.
Obviously, the tougher the wood, the more splitting force you need. Smaller splitters (usually intended for personal rather than commercial use) tend to sport around 6-7 tons of splitting force, which is more than enough to provide your home some much appreciated natural heating.
The longer the log, the further it has to be pushed for a clean 100% split. If you can't quite achieve that, don't worry; pushing again tends to finish the split without much trouble. Still, try to invest in a splitter that does the job in one go, to save time and, in some cases, fuel. 16 inches is a common log length to consider, though people frequently use up to 20-25-inch long pieces too.
The Noise
This one's fairly simple, right? The less noise your splitter makes, the fewer complaints from annoyed neighbors you will encounter, and that's a big plus for your sanity if our experience is anything to go by. However, don't sacrifice performance just to keep things quieter, as you still want good functionality more than anything else.
Safety Features
6-7 tons of pressure isn't a small amount by any stretch. Under no circumstance do you ever want a body part caught in that kind of situation, which is why a lot of log splitters are intentionally designed to be operated with both hands. There's no better way to make sure people don't idly hold their hands in a dangerous position. Other safety features are usually specific to the product.
The Price
You get what you pay for, in most cases. Try not to overspend on a splitter if you won't use it to its full potential, as these things are costly. Look out for extended warranties and other extra offers, as only some of these things are truly necessary. Carefully consider whether you need anything more advanced than a simple but reliable splitter.
Durability and Longevity
The most vulnerable parts of each log splitter are the nuts and bolts, and other tiny pieces. While the overall construction is often very sturdy, you want to keep an eye out for problems like hydraulic leaks and extension cord tearing/freezing. If you can learn to fix and maintain these parts, you're good to go, and your electric log splitter will serve you for a long time.
Of course, making sure you purchase the most stable and durable splitter is a very smart decision, as no one wants to spend time fixing anything unless it's a car and it's your hobby.
The Top Dogs – Current Popular Log Splitters On The Market (Our Reviews)
Picking just one out of many similarly appealing items can be difficult. If it weren't, we wouldn't have those moments in sitcoms where someone holds up three suits for their friends to compare and choose one. When you get stuck in this situation, remember that personal preference and convenience are a major factor to consider. Think about how much space you have, how your garage looks (if you plan on using a splitter in there), which one just feels right, all these things. We've isolated five top-quality products for you to examine so that you can find your pick much quicker.
*Below, you'll find our more detailed reviews, but you can also click the links above to see current prices or read customer reviews on Amazon.
5. WEN 56206 6-Ton Electric Log Splitter –
A Beast With A Small Nuisance
Price on Amazon: [amazon_link asins='B00IKDC6A6' template='PriceLink' store='gardeningwizards-20' marketplace='US' link_id='935cce66-1635-11e7-bbf8-13d3034b13b5']
A very reliable choice, this electric log splitter uses your home's electricity to run, requiring no additional fuel. This lets you save a lot of money that would otherwise go into fuel. Depending on your needs, and how much space you have, you can upgrade all the way up to a 30-ton splitting force monster. Since most people don't need a log guillotine, we'll focus on the more compact version. This particular splitter features a cradle that keeps the log on its path reliably and lets the splitter handle logs up to 21 inches in length and 10 inches in diameter.
Another selling point is how portable this log splitter is, as it features two handles that are positioned well enough to let you reposition it with ease. The price is very reasonable, though the more powerful versions blow things out of proportion a bit.
The downside here is that the instruction manual is unintuitive, and within it is one very important detail. There's a valve you have to babysit – it has to be open during use, and closed during storage. If you don't do things this way, there is a serious risk of damaging the hydraulic seals. If you're mechanically inclined (and you might be if you're purchasing a log splitter), this isn't necessarily a difficult puzzle, but the layman is in trouble.
Things We Liked
---
Things We Didn't Like
4. Goplus New 1500W 6 Ton Electric Hydraulic Log Splitter Wood Portable Cutter –
A Good Deal, Tough To Move Though
Price on Amazon: [amazon_link asins='B01EUUIMH8' template='PriceLink' store='gardeningwizards-20' marketplace='US' link_id='935cce66-1635-11e7-bbf8-13d3034b13b5']
The main draw here is how clean the splitting is done. Knots are almost unnoticeable when matched up against the 6-ton power of this splitter. Its Class-B insulation makes it almost perfectly safe, so this is a great electric log splitter for a beginner. It runs using a 1500W motor and the log travel distance clocks in at around 15.5 inches. This makes this log splitter ideal for 16-inch logs, and it shoots the split-off pieces like bazooka rockets. It is resistant to moisture, which leaves it free of rust long after inferior models would cave in. Water-resistance is also handy for storing it in basements where you're expecting to see puddles for whatever reason.
The price is pretty affordable, and overall, this splitter is a pretty good deal. The only issue we've found is that the wheels you use to transport it are attached to the pump housing. Why is this a problem? Well, this means the pump housing is very close to the ground at all time, and it can get damaged if it bumps too much into stairs or loose rocks. Try to be conscious about where you're taking this log splitter, and if possible, remove the wheels and use a different method of transportation.
Things We Liked
---
Things We Didn't Like
3. Boss Industrial ES7T20 Electric Log Splitter, 7-Ton –
Powerful, Pricey, and Usable By One Hand
Price on Amazon: [amazon_link asins='B00GNSCGIW' template='PriceLink' store='gardeningwizards-20' marketplace='US' link_id='935cce66-1635-11e7-bbf8-13d3034b13b5']
If you're looking for more convenient log splitters to use, this unit is a go-to choice for many. It doesn't require two hands to use, which is more comfortable as long as you stay safe. This electric log splitter is clearly meant for personal use at home, as it's designed to handle 15-17-inch logs, though it claims to go as high as 20 inches. We wouldn't recommend testing that limit too much, to make sure your splitter remains in top shape for a longer period of time.
The splitting force caps out at 7 tons, which is more than enough for the type of wood this model is used for. As long as you keep a reasonably long cord around to keep the splitter powered, it performs well both indoors and outdoors, as it's not as vulnerable to rain as gasoline-powered log splitters. To make up for the reduced control from only using one hand, the ram immediately reverses after being released, to prevent serious injury.
Unfortunately, it's not all sunshine and split logs, as you have to get through a very tedious setup process with almost no help from the unintuitive manual. If you can push through, the splitter will reward you with safe and reliable splits for years.
Things We Liked
---
Things We Didn't Like
2. Powerhouse XM-380 Electric Hydraulic Log Splitter, 7-Ton –
Very Bad Manual, Quiet Machine, Very Maneuverable
Price on Amazon: [amazon_link asins='B004323O1I' template='PriceLink' store='gardeningwizards-20' marketplace='US' link_id='935cce66-1635-11e7-bbf8-13d3034b13b5']
We're back to two-handed operation with this model, which means it's incredibly safe to use. It lives up to the Powerhouse to its name, as it sports 7 tons of force and pushes the log 15.7 inches to deliver clean splits without fuel issues or trouble with starting up. Visually it sort of resembles a toy truck your kids could haul around the yard, and it's about as portable as one (although it has hiccups on uneven terrain due to there being a very small space between the wheels). This splitter is probably the quietest of the bunch, so you might want to pick it if you have annoying intolerant neighbors.
The main con aside from the terrain problem is minor but can be problematic for some people. The manual is by far the worst on this list, as it was seemingly made by people who are not on a first name basis with the English language. Unless you're already kind of aware of how to put this thing together, you may find yourself struggling with instructions like "never release the two handles in a sudden," which is about as helpful as this one sounds
Things We Liked
---
Things We Didn't Like
1. Champion Power Equipment 90720 7 Ton Compact Portable Log Splitter –
Strong, Reliable, and Convenient (After you set it up)
Price on Amazon: [amazon_link asins='B00BBDCGSY' template='PriceLink' store='gardeningwizards-20' marketplace='US' link_id='935cce66-1635-11e7-bbf8-13d3034b13b5']
This model bumps up the price a bit, but it does things to justify the increased cost. For one, it's very durable and easy to transport thanks to the sturdy tires and a helpful handle in the front. This electric log splitter is very low to the ground, which helps a lot when you're trying to lift heavier logs to place onto the cradle. The warranty lasts two years, but you get free technical support forever. If you get a damaged part from improper shipping (it happens sometimes, we've all been there), Champion Power will replace it almost without question. Not that you'll run into many problems even if you overwork this beast, as it can handle logs heavier and bigger than you'd expect.
A downside we've found is that it takes some time and elbow grease to setup. It's not the end of the world, but people who aren't experienced may struggle. It's worth the effort, though. The only other problem is tied to the bolts that hold the entire thing together. Be vigilant and stop them from getting too loose, to prevent further inconvenience.
Things We Liked
---
Things We Didn't Like
The Verdict
As they said in Highlander, there can be only one. The clear winner here is the Champion Power Equipment 90720 7 Ton Compact Portable Log Splitter. While it's not the most affordable log splitter on the planet, you get what you pay for, and it delivers for probably the longest time with no hiccups. If you want to avoid having to lift logs up like they're a morbidly obese dog, the low-to-the-ground construction comes in for a save. If you can afford it, it'll be your best yard-buddy.
Let us know if you have any feedback! We'd love to hear your impressions if you tried any of these splitters, as the more informed we all are, the more we accomplish with our money.