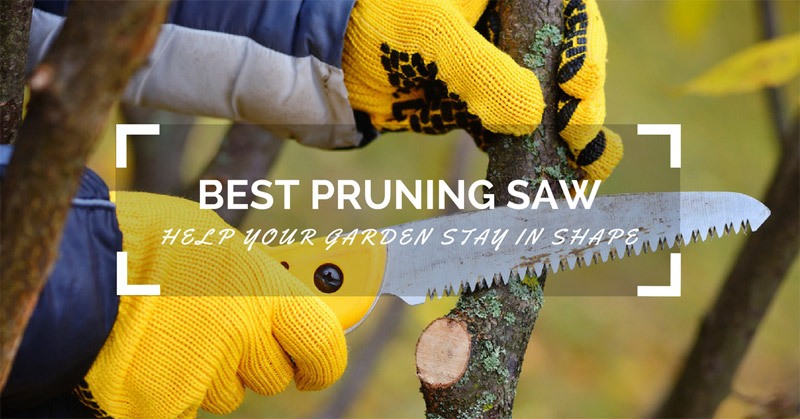 If you have a garden, you will surely agree that there are few things in this world as beautiful as a garden in spring. However, if you tend to your garden on your own, you will also know how difficult it is and how much effort it requires.
The winter is around the corner, and your garden will soon be in dormancy which is the right time to prune if you hope for a vigorous burst of new growth in the spring. In fact, light pruning and removing of dead branches can be done almost all year long- for this reason, you should own a quality pruning saw that will help you keep your garden in shape.
As always, we are here to help you find the best pruning saw on the market, so be sure to read all the way to the end, as you will find out everything there is to know about pruning saws, the five best pruning saws currently on the market and the one that is the best among the best.
*Below, you'll find our more detailed reviews, but you can also click the links above to see current prices or read customer reviews on Amazon.
What Is a Pruning Saw and Why Should You Buy One?
For all those who are new to gardening, we will start with the basics and explain what the pruning saw is. A pruning saw resembles a saw used for lumber as it has the same sharp teeth but is used for trimming larger shrubs, smaller tree branches, and difficult to reach, high positioned branches.
In case you wonder when it is a good time to use a pruning saw, there is a rather simple rule that answers your question: If a branch is thicker than 1.5 inches, forget a hand pruner and use a pruning saw instead. On the other hand, if a branch is thicker than 4 inches you will need a proper saw.
Typically pruning saws have a medium-length blade with pointed teeth. The blade can be either straight or curved to allow for a better angle. The handle can also be curved or straight. For a bit more money, you can buy a pruning saw with a telescopic handle which will keep you off the ladders.
If you have any doubts about needing to buy a pruning saw, discard them immediately; it is a useful gardening tool that will help make your garden plants look more attractive, but also better their overall health and productivity of flowering and fruiting. Pests and disease usually affect a plant through deadwood and pruning will minimize the chance that they alter your plants adversely.
Besides ensuring that your plants grow properly, pruning can aid keeping your greenery visually appealing. Through systematic maintenance pruning, you can shape your garden but also get rid of any unwieldy foliage.
Types of Pruning Saws
1. Hand-held Pruning saw
For pruning smaller gardens or home plants, and not so thick branches, hand-held pruning saw is an ideal choice. As it is also compact and easy to store when not used, it is the most popular and most often bought type. It can be used to cut even thicker branches, but you would have to put a lot of pressure.
2. Polo Pruning Saw
Polo pruning saws feature a longer handlebar and blade which makes them perfect for cutting hard to reach stubborn branches. As the longer pole equals less cutting power, these saws have very powerful jaws, and their blade is a bit different from other types. We recommend that you check the weight of polo pruning saw before you buy it, and make sure that you can handle it bearing in mind that you will have to hold it with your arms outstretched as you cut.
3. Straight Blade Pruning Saw
When it comes to the blade, we can differentiate two types of pruning saws. The first type is a straight blade pruning saw; as the name suggests, the blade is straight and sharp. Typically, the handle is curved allowing for easier control. This type is very popular and versatile, but not very convenient for large operations.
4. Curved Blade Pruner Saw
This is another type of pruning saw differentiated by according to the type of blade, and once again the name says it all- the blade is curved. As the blade is curved, characteristically the handle is straight. These saws are appropriate for heavy-duty operations and thus are extremely sharp and able to cut through larger and thicker branches and trees.
What Should You Consider When Buying a Pruning Saw?
1. Size and weight
Before buying a pruning saw, make sure that it will be able to live up to the intended task. This means that you must consider how thick, long or high the branches you intend to cut are, then choose the appropriate model and size. Most of the pruning saws can handle 1 to 5 inches' diameter branches.
You do not have to buy a heavy duty model if the branches you are pruning are thin, nor will you be able to get the job done if you buy a model that is unable to cut through the thick branches in your garden.
It is best to try out the saw, feel how heavy it is, and consider whether you are able to handle the weight.
2. Blade Sharpness
The sharpness of the blade is one of the most important consideration, but it is unfortunately hard to evaluate on your own before you actually start using the saw. For this reason, it is best to do a thorough research, read other people's reviews but also consider the warranty period as it will let you know how many years you can expect the saw to perform well. Also, check if the blade can be sharpened.
3. Safety
The safety features are always an important thing when it comes to tools, especially as sharp as pruning saws are, as accidents can happen when you least expect it. First of all, make sure that the saw comes with a sheath which is made to keep both you and your pruning saw protected. It should hold your saw securely, nor loosely; in this way, the saw will not be able to fall out easily and cause any harm. The saw can also fold as to hide the blade when not in use.
EXTRA ADVICE: You should also use the pruning saw cautiously: Always concentrate while you operate it and wear gloves and safety glasses to prevent injuries.
4. Price
The best pruning saws are usually the most expensive. There are exceptions though, and it is, therefore, best to consider a well-known brand or rely on reviews.
Moreover, if you are going to use a pruning saw rarely, and for small operations around the house, or in a small garden, you do not have to spend a fortune. However, if you are a professional user, or are otherwise inclined to use a pruning saw for long periods of time, consider spending a bit more money and buy a saw with the utmost cutting performance and the durability you need.
Five Best Pruning Saws on the market: Detailed Reviews
*Below, you'll find our more detailed reviews, but you can also click the links above to see current prices or read customer reviews on Amazon.
5. Corona RS 7265D Pruning Saw –
Budget friendly, Great performance, Durable Japanese Steel Blade and Not So Durable Plastic Handle
Price on Amazon: [amazon_link asins='B001RD7LRO' template='PriceLink' store='gardeningwizards-20' marketplace='US' link_id='935cce66-1635-11e7-bbf8-13d3034b13b5']
Corona RS 7265D Pruning saw features a curved 10-inch long chrome-plated blade designed with triple ground impulse and hardened teeth which allow for faster cutting. Although the cheapest model we have reviewed, it has not disappointed us with either its quality or performance. We were even pleasantly surprised to find out that the blade is made of High Carbon Japanese SK5 steel which suggests that this tool is very durable.
Although the blade is a bit short, it is D-shaped, features 6 razor sharp teeth per inch and can cut even through branches 6 inches thick. The higher carbon should keep the blade sharp for years, but the blade is also easily replaceable with only one screw (although the price of extra blade almost equals the price of a new saw). There is a possibility to order a two-inch shorter blade as well, The saw is fairly lightweight, weighing around 10 ounces.
The saw folds to protect the blade and person carrying it and features a safety locking switch. The switch can lock the saw in both opened and closed shape. The handle is comfortable but made of plastic which does not seem high-quality or sturdy. Extraordinarily, especially considering the price, the manufacturer provides a limited lifetime warranty as well.
Things We Liked
---
Things We Didn't Like
4. Fiskars Pruning Saw –
Cuts On The Pull And Push Stroke, Comes with Edge Protector but No Sheath
Price on Amazon: [amazon_link asins='B005X5WRC6' template='PriceLink' store='gardeningwizards-20' marketplace='US' link_id='935cce66-1635-11e7-bbf8-13d3034b13b5']
Fiskars is a big name in the tool industry, and we expect nothing but quality from the brand. From their product lines, today we have the 15-inch pruning saw that doesn't fold, but features sturdy handle and frame, while maintaining durability and sharpness. The product's exact dimensions are 19.5 x 6 x 1.13 inches, making it quite large for the standard pruning saw.
Because of its big blade size, this saw is a blessing for larger cuts, yet it will require you to put some effort to get it started. The teeth on this saw are placed to be eficient in both ways, but the evident difference in cutting can be noticed while pulling. There's a big difference in that regard, and it can be listed as a flaw, or as a safety feature.
The saw's handle is very nice, and the D shape ensures the optimal safety as well as strong grip. It is attached to the blade by three strong bolts, and the durable plastic is used to ensure the proper form. The  15-inch curved blade is made from hardened steel, and Fiskars gives a lifetime warranty for the product, which is a nice treat. The overall weight is 12 ounces, which isn't neither too light or too heavy.
Things We Liked
---
Things We Didn't Like
3. Samurai Ichiban 13" Curved Pruning Saw –
A Japanese Pruning Saw With Quality Handle And Blade, No Sheet Included
Price on Amazon: [amazon_link asins='B001BAFD6E' template='PriceLink' store='gardeningwizards-20' marketplace='US' link_id='935cce66-1635-11e7-bbf8-13d3034b13b5']
Here is a new product on the market, which takes more and more attention in the gardening and tools niche. This is a Japanese manufacturer, but don't get discouraged with this fact; on the contrary, the affordable prices and quality standards keep this one as more than adequate replacement for products you'd buy on your local Home Depot. Furthermore, many of brands we trust and love shifted their production to Asia to lower the costs.
Anyway, let's get back to this pruning saw. It boasts 13-inch blade with a 7-inch handle, all curved to reach the perfect pruning positioning. The length of the whole saw combined is 20,5 inches, and it weighs around 10.4 ounces, which puts it on the lighter spectrum of the tools available on the market.
The teeth on this blade are made with precision and are extra hardened to achieve the level razor sharp cutting. These won't let you down even on harder and thicker branches. The three-edge technology is used to sharpen and harden these teeth, and the result was quite good.
The handle is very comfortable in hand, thanks to the soft rubber and ergonomic design, designed by advanced engineering and machine printing. The end of the handle prevents misfortunate droping of the saw, and locks the handle in your hand tightly.
Things We Liked
---
Things We Didn't Like
2. Corona RS 7120 Pruning Saw –
Razor Sharp Teeth and 13-Inch Curved Blade, Cheap but Efficient
Price on Amazon: [amazon_link asins='B00004R9YE' template='PriceLink' store='gardeningwizards-20' marketplace='US' link_id='935cce66-1635-11e7-bbf8-13d3034b13b5']
The Corona RS 7120 is a budget-friendly razor tooth pruning saw which features a 13-inch tempered steel alloy, rust-proof curved blade with up to 6 teeth per inch.  It is best for cutting medium to large branches  up to 7 inches thick. The impulse-hardened razor teeth are sharp on 3 sides allowing for quicker operation and deeper cuts. The High Carbon Japanese SK5 steel used for blade makes this saw exceptionally durable and long-lasting.
This saw cuts on the pull stroke. It features an ergonomically designed, pistol-grip handle with cushion covering which allows for secure and comfortable grip. On the downside, it does not come with a sheath, and since it does not fold either, it is rather unsafe to carry around and requires additional purchases.
Moreover, Corona RS 7120 is lightweight and easy to use. While there are certainly better saws on the market, this pruning saw balances price and quality quite successfully and is a great choice for those on limited budget. As a bonus, you receive a lifetime warranty from this renowned company which exists since the 1920s.
Things We Liked
---
Things We Didn't Like
1. Bahco 396-LAP Laplander Folding Pruning Saw –
Multipurpose Saw with Razor Sharp XT teeth, No Sheath Included
Price on Amazon: [amazon_link asins='B0001IX7OW' template='PriceLink' store='gardeningwizards-20' marketplace='US' link_id='935cce66-1635-11e7-bbf8-13d3034b13b5']
Bahco 396-LAP is a 7,5-inch long folding saw appropriate for cutting thin and thick wood and other materials as well. As it weighs only about  2.7ozs, it is lightweight and extremely portable and thus convenient for backpacking as well. It features razor sharp XT teeth and cuts on both the push and the pull stroke which makes it very efficient.
The blade is straight and 7.5 inches long, with 7 teeth per inch, and made from Swedish steel renowned for quality. The saw locks in both the open and closed position with a designated button. It stays safely closed when you transport it and will not close on your hands while pruning. After testing it, we advise using it on branches up to 3 inches thick for ideal performance.
The handle is made from a  type of polymer plastic, and although we prefer rubber, we have not  experienced any problems even when it's wet. We have two minor complaints- first, the green color is likely to blend in with the greenery if you misplace it while working in the garden making it hard to locate. Secondly, we have experienced some problems with blade hitting the handle when folding the saw, and had to aim a bit in order to get it right.
Things We Liked
---
Things We Didn't Like
The Best Pruning Saw On the Market
Bahco 396-LAP Laplander Folding Pruning Saw is our definite favorite as it offers the highest quality for a more than reasonable price.  It is efficient, durable and versatile. If it had a good protective sheath, it would be 100% perfect.
However, other reviewed pruning saws are not far behind, and you will surely not regret buying any of them. The only important thing is to own the right tool for a job, and any of these pruning saws will prune your garden to perfection!