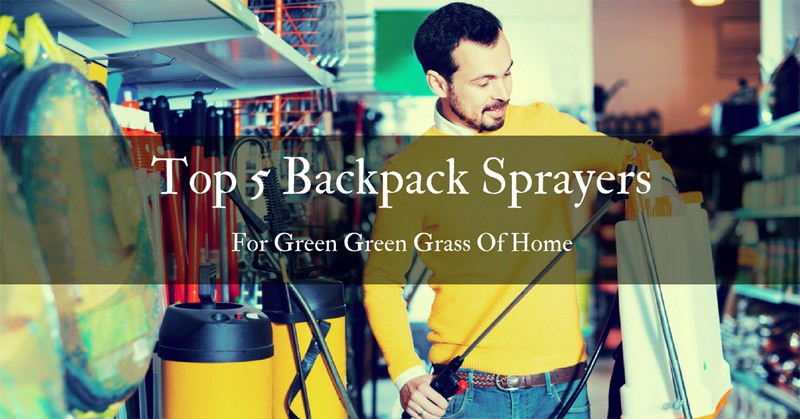 If you live in the suburbs of the USA, you know how important it is to have a beautiful lawn. People even tend to judge your character on the looks of it. If you are keeping it nice, neat and green, they estimate you will be a good neighbor; if you don't invest in it, they think you are sloppy and unreliable, but if you overdo it, they believe that you are competitive.
This creates too much pressure about such a relaxing activity. People usually enjoy taking care of their lawn. It is soothing, and it offers you a contact with nature. At last, it is nice to see results of your effort and the fact that you are capable of cultivating and growing something fresh, scented, live and important for our environment.
Maintaining an entirely green lawn can be challenging and tiring, but only if you don't have the right tools. For that reason, we are here today to present you one of the crucial pieces of equipment – backpack sprayer. High-quality backpack sprayer has a potential to offer you easy lawn maintenance and fast, beautiful results.
*Below, you'll find our more detailed reviews, but you can also click the links above to see current prices or read customer reviews on Amazon.
What is a backpack sprayer?
Backpack or knapsack sprayer is a versatile apparatus used in spraying fungicides, insecticides, pesticides, herbicides or fertilizers in order to keep both small and vast areas of plants healthy and free from various infestations. It typically consists of a backpack tank, pressurizing device, line, and a sprayer nozzle.
The good thing is, you don't have to use your sprayer for gardening only. They can be utilized for numerous household tasks. Cleaning your car, home, boat or varnishing your deck all become much easier once you have this tool. At the same time, the job will be done faster, with less mess to clean afterward and without your hands touching dangerous chemicals.
How to use your backpack sprayer?
Using a backpack sprayer is pretty simple, you just have to get a necessary liquid and a separate container if you like.
Once you buy it, your sprayer won't be assembled. Doing it for the first time can be a little tricky, but if you follow the instructions manual, you shouldn't have any problems. Usually, you have to screw the spray wand onto the spray gun, attach the shoulder straps and insert the pump handle into the matching hole.
Some liquids like pesticides, herbicides, and insecticides often have to be mixed with water. This is why additional container can be useful. You can find the directions on how to mix your chemicals properly on the product's labeling.
You'll find a little cap on your backpack sprayer – unscrew it and pour the liquid in, slowly. Once you are done, screw the lid back on and put the sprayer on your back. Adjust the plastic straps until they fit securely and comfortably.
You need to prime the sprayer by doing between 10-15 pumps with the handle. Pump it once every five seconds. This way, you will maintain continuous pressure in the tank.
The only thing left to do is to point your wand wherever you want to spray and pull the trigger to discharge the liquid.
You can get additional information on how to use your backpack sprayer in this video.
How to choose the right backpack sprayer for yourself?
There are few things you should consider before buying a backpack sprayer. Of course, in the first place, you have to care about your needs and sprayer's primary use. However, we'll be listing all of the essential characteristics you should pay attention to.
Do you want to use oil-based chemicals?
If you are planning on treating woody plants with your backpack sprayer, you'll need oil-based carriers, which means you have to buy one that has seals, pumps, and hoses resistant to oil. Otherwise, it won't be durable.
Manual or battery powered?
If you are treating large areas, battery powered sprayers will be more convenient, this way you won't get tired of manually pumping the handle to maintain pressure. However, you'll spend more money on this type of sprayer, maintaining it will be more complicated and it won't be so lightweight.
On the other hand, manuals sprayers would be better if your plants have new infestations and you have to treat them carefully. It is better to look for backpack sprayers that allow you to use it with both right and left hand.
Piston or diaphragm pump?
If you go with the piston pump, you will save some money, but it won't be suitable for all types of chemicals, like dry herbicide formulations for example. The diaphragm pump is more practical in general because it is more durable and easy to repair.
Make sure you are safe and comfortable! Straps should be adjustable and chemical resistant to increase comfort. The size of the handle and good wand grip, also have their role. Rubber seals will decrease swelling and softening of the equipment, which can cause leakage or pump breakdown. The same goes for the wand, it has to be high-quality, and it should accept a wide variety of nozzles and caps.
Durability in the first place
Your backpack sprayer should be made of high-density polyethylene with UV protection. All of its accessories should preferably be rated for chemicals you will be applying. Make sure that repair parts are available to rebuild components one they wear off or fall apart.
Top 5 Best Backpack Sprayer on the market
*Below, you'll find our more detailed reviews, but you can also click the links above to see current prices or read customer reviews on Amazon.
1. My 4 Sons 4-Gallon Battery Powered Backpack Sprayer –
Pleasant surprise
Price on Amazon:
My four sons' backpack sprayer is entirely different from any else we talked about today. You will have to spend a few more dollars on it, but it will pay off. You will get a battery powered machine with both stainless steel and plastic wand, and few nozzles. It will be ready for use in no time.
What I liked about this one is that there is no manual pumping. It has an ergonomic design, and it comes with a locking trigger. This backpack sprayer is made for heavy-duty usage, and you can spray up to 200 gallons before recharging the battery. Wands are long enough to reach the top of the trees without any problem.
Things We Liked
---
Things We Didn't Like
2. Chapin 61900 4-Gallon Tree and Turf Pro Commercial Backpack Sprayer –
Comfortable but heavy
Price on Amazon:
If you decide to buy this Chapin's model, you will spend a little more money than you usually would on a manual backpack sprayer. However, you will get a high-quality product with a 4-gallon tank, compatible with most of the common chemicals, with a three stage filtration system.
This product comes with a manufacturer's warranty, which is always great to have. The shoulder straps are extremely comfortable, and the shape of the pump makes a job almost effortless. The nozzle allows you to apply the wide spray, which means you will be saving time and covering a larger area.
On the other hand, if you are not a very strong and tall person, this backpack sprayer might be difficult to handle. It is very heavy when it is full, and the wand might be too long for you to take a safe grip. You may also have some problems with pressure steadily dropping, but once you get used to it, it shouldn't be a significant issue.
Things We Liked
---
Things We Didn't Like
3.  Field King Professional 190328 No Leak Pump Backpack Sprayer –
Promising but leaky
Price on Amazon:
Here comes a backpack sprayer from Field King Professionals for a change. For a decent price, you will get a manual about 4-gallon device, with internal no leak pump, with Viton seals and lockable shut off with brass components.
This backpack sprayer will offer you a chance to spray up to 20 feet in the air, which is great if you have some tall trees that need proper treatment. This model is easy to assemble, comfortable on your back and it comes with Viton rubber seals for extra safety. Also, you will get four nozzles with it, and if they break you can buy ones from TeeJet because this backpack sprayer accepts them.
Things We Liked
---
Things We Didn't Like
4. Chapin 61500 4-Gallon Euro Style Backpack Sprayer –
Affordable but stingy
Price on Amazon:
Here is another model from Chapin. If you decide to purchase this one, you will save some money, because it is cheaper than any other backpack sprayer in this review. At the same time, you will get 4-gallon tank, with two stage filtration system and two nozzles.
This backpack sprayer comes with clear and detailed assembly instruction, so you shouldn't have any issues putting it together. It is easy to clean, and really practical, because the pump is placed on the top of the tank, instead of the bottom, which reduces the chance of potential leakage. It also comes with an across-the-abdomen strap, which will make the tank fit securely on your back.
However, it is not as comfortable as the previous model. Plastic part will sting you in the back, especially when the sprayer is full. This one also has the problem with losing pressure, which means you will have to pump repeatedly to keep it working. At last, it is not friendly to left-handed people.
Things We Liked
---
Things We Didn't Like
5. Chapin 61800 4-Gallon Backpack Sprayer –
Good but not heavy-duty
Price on Amazon:
This Chapin's model is similar to the first one we presented today. If you decide to buy it, you will get 4-gallon tank with 3 stage filtration system and removable and cleanable in-tank filter, just as you would if you purchased the first item from our list.
This backpack sprayer is easy to assemble, so you won't spend too much time on figuring it out before you start your work. Surprisingly, the pressure is good, and you don't have to pump it that much. Also, the removable filter is handy because it prevents the nozzle from clogging. In comparison to other models, on this one, you can set your handle on both right and left side, which means left-handed people can use it as well.
Things We Liked
---
Things We Didn't Like
My Choice
When I was buying a backpack sprayer, my choice wasn't too hard. I saw the advantage of battery powered ones, and I decided to go with that. So, My 4 Sons 4-Gallon Battery Powered Backpack Sprayer was the one that I have purchased.
Other than the fact it has a battery, I liked it because it is heavy-duty and safe to use at the same time. I haven't heard of anyone who had a leakage problem with this model, and it served me right, since the day I bought it.
However, if I had to choose between manual backpack sprayers, I would go with Field King Professional No Leak Pump Backpack Sprayer.  This would be my choice because I trust in Viton rubber seals and I liked the fact that it was compatible with TeeJet nozzles.
Whichever you choose to remember one thing – keep your equipment clean, and your lawn will be green. No backpack sprayer will last for years without regular maintenance. So don't rush with blaming the manufacturer if you haven't done your part of the job.
I hope you'll have the healthiest plants in your neighborhood!