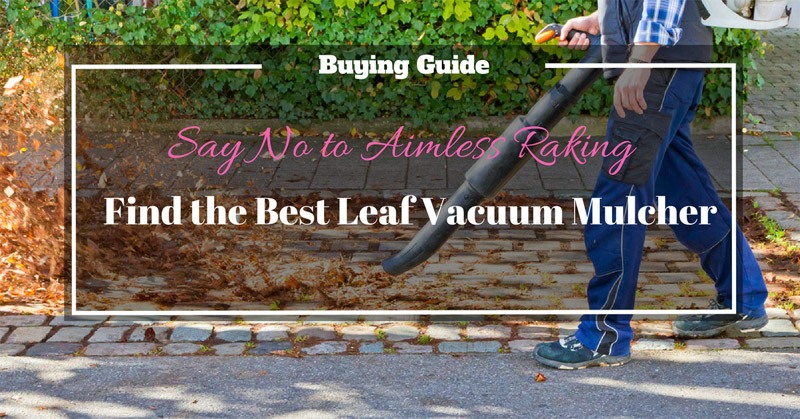 Are you tired of raking through your garden? Do you want to make healthy organic compost for your plants instead of using industrial chemicals? Or you are simply living on the line between not having enough time to spend the whole day cleaning your garden on your own and not having enough money to pay someone to do it for you?
Fortunately, there is a simple and relatively cheap solution for your problems – leaf vacuum mulcher. As you probably know, mulchers are usually extremely versatile. They are not here only to create natural mulch, but to help you blow, shred and vacuum leaves at the same time.
Today, I will offer you my opinions on the five best leaf vacuum mulchers that you can find in your local gardening equipment store or order online. Also, I will give you some tips on how to choose the right machine for yourself, how to make the mulch and so on.
What to look for while shopping for leaf vacuum mulcher?
When you want to choose a mulcher on your own, how to determine which one suits your needs? I recommend you to ask yourself these few simple questions:
1. Is it too heavy?
Each leaf mulcher has a different weight. Each person should determine on their own what is too heavy and what feels just comfortable for them. Yes, your cleaning time will be significantly shortened when you buy this product, but you will still spend a lot of time holding it in your hands, so make sure you don't get tired too soon.
If you have a small garden, cordless hand held leaf mulcher should be just enough. A larger garden requires a stronger machine, which means some shoulder strap or a backpack vacuum mulcher might be a better idea.
2. Is it too noisy?
You cannot really determine this by just looking at the machine or holding it in your hands, so make sure to read the reviews before you make a purchase. Smaller, handheld products usually make less noise, bigger ones will be louder in general, but there are still some differences between the manufacturers.
If you get a too noisy machine, you will also have to buy noise-canceling headphones or some other form of hearing protection.
3. Do you want a battery powered machine?
Battery-powered leaf mulchers are ideal for small gardens, and they are the friendliest option for the environment.
However, they can run either on electricity or a small battery. The advantage of these models is that you can let go of the cord and switch to battery use if you want to cover areas in the garden that are hardly accessible. For large gardens, machines that run entirely on the battery can become an issue because you will have to recharge them often.
So, if you decide to go with this type make sure to check voltage (V) and capacity (amp). Smaller mulchers usually run on a 20V battery, while the large ones can be powered by 40 or 56 volts. Look for products that have greater capacity (number of amps) because this means longer runtime.
1.5-2.0 will be enough for small yards, but bigger yards will require more.
4. Is it easy to switch from vacuum to blower?
If this part of the process is easy, it could save you a lot of time and effort.
5. How fast is the mulcher?
Faster it is, sooner the job gets finished. High-performance electric machines usually have up to 250 mph of air speed, while the gas powered ones can be even faster.
6. How do you feel about mixing fuels?
If you characterize yourself as generally environment oriented and at the same time clumsy person, gas mulchers might not be the best option. They require a combination of gas and oil, which needs to be mixed in the right amount if you want your machine to last and achieve desired effects.
Why should you even care about the mulch?
You consider buying a machine for vacuuming and blowing, but the mulching part still seems to confuse you. Isn't it just about reducing the amount of leaf garbage you'll have to place in bags? No, it is not. Mulching means creating a natural or synthetic layer that is positioned on top of the soil to serve as a weed suppressor or moisture retainer.
Besides these two functions, mulching has many benefits for the soil. It enhances its fertility, controls the temperature, prevents it from frosting and makes it aesthetically appealing. Leaf mulch is especially beneficial because it includes carbon, potassium, and phosphorus which improve the nutrient quality of the soil.
If you want to learn more about mulching, you should watch this video, and here is another one to help you
create your first mulch on your own
.
Top 5 Leaf Vacuum Mulchers on the Market – My 2017 Reviews
Black and Decker is one of the famous names in the gardening industry. Now, you can purchase their 3 in 1 leaf blower, vacuum, and mulcher. You will get a reliable and durable product with 12 amp motor operator, 250 mph blower and innovative disposable leaf bag system. For the amount of money you pay, you will be able to grind up to 16 bags of leaves down to one.
What I particularly liked about this vacuum mulcher is its strength. It is incomparable to the cordless versions of this machine. If you are worried that it will suck in the rocks in your yard due to its powerful vacuum, you should know there is an option to regulate its strength. It comes with a 2-year warranty, and there is no annoying zipper-closing mechanism which is absolutely delightful.
However, you might notice it is heavier than it should ideally be and the bags are hard to detach. Also, it won't work on wet leaves, and if you go too fast, it will probably clog, so be careful.
---
---
If you are the person who likes to pay a larger amount of money and be sure about getting a high-quality product, Toro's machine might be a good idea. You will spend more money, but you will get a powerful 12 amp motor, with 410 cfm air volume, different blower and vacuum tubes and full two-year warranty.
What I really liked about this product is its infinite speed adjustability option. Instead of choosing the speed mode by the switch, there is the knob which increases the level of control you have over the motor's speed. Also, the machine is lightweight, robust and straightforward to use. Another thing you should know is that it works on wet leaves too!
Well, yes, you will spend two or three times more money on it than you would on some other product from this group. And yes, it is noisy, so you will need to buy hearing protection too. In the end, you will be covered in dust because the bag is porous.
---
---
WORX TRIVAC 12 Amp 3-in-One Blower/Mulcher/Vacuum with Metal Impeller –

Lightweight but loud
​
If you wouldn't like to build up your muscles carrying a heavy mulcher around, WORX TRIVAC 3 in 1 model might be a very good choice for you. You will spend approximately the same amount of money as you would for the previous one, yet you'll get a lightweight machine with the angled nose, 12 amp motor, 210 mph air speed and 350 cfm air volume.
What I liked about this one is the fact that changing from vacuum to blower is much easier and every clean-out goes flawlessly. As I mentioned, it is a lightweight machine with a remarkably sturdy metal impeller, so the mulch you get will be super fine. It is versatile and chews up twigs and small branches without any problem. Angled nose is a perfect addition for awkward corners.
This machine works perfectly, but boy it is loud! I noticed that the suction power drops more and more, the longer you use it. Also, it won't pick up wet leaves and if you are taller than 5'5" there is a chance that the shoulder strap won't fit you.
---
---
Here's another version of WORX TRIVAC leaf mulcher, only less expensive and with a little less power. This 12 amp machine will help you clean your garden with its 210 mph airspeed and 350 cfm volume. The metal impeller will help you reduce ten bags of leaves down to one within seconds. As a bonus, this device comes with a 3-year warranty.
If you want to work in your backyard for several hours without repeatedly cleaning your mulcher, this is the right model for you. It hardly ever clogs, and it is much quieter than other machines. Switching from vacuum to blower is just a matter of pressing the button. It eats little branches, acorns, dry leaves, wet leaves, anything you could imagine.
Be aware that it is bulky and cumbersome. You'll need both hands if you want to deal with it successfully. Vacuum part works fine even though you have to direct it right above the leaves, and blowing power is lacking. Also, bags are ridiculously tiny which means you have to change them every few minutes.
---
---
Shopping for a leaf mulcher on a budget might seem complicated, but Black & Decker is here with their surprisingly affordable offer. For the money you will spend, you'll feel like you stole this 12 amp machine with 250 mph blow speed, two-speed modes and ability to reduce sixteen bags of leaves down to one.
The biggest benefit of this product is its price. However, it has other qualities to offer too. For starters, it is really strong, and it will spit small rocks before they can get to the mulcher and damage the blades. Also, you will be able to use it on wet leaves, and if it clogs, just a few shakes up and down will do the job.
On the other hand, it comes with a zipper bag which can create many issues and break after only a few months. Besides that, you will have to change the nozzle every time you decide to switch from blowing to mulching. Large leaves will repeatedly get stuck in the opening.
---
---
Finally, it is time to proclaim the winner of our race for the best leaf vacuum mulcher.
My choice is Black & Decker BV6600 High-Performance Blower/Vac/Mulcher. If you ask me, this beautiful machine has it all. It is mighty, it comes with a warranty, vacuum strength can be regulated, and the mulch it produces is fine enough to create high-quality organic compost, which is the activity I particularly enjoy. All my colleagues here on Gardening Wizards (tend to) agree with me on this call as well.
It might be a little heavy, but like I said this depends on personal preference. I like to have a good cardio right there in my backyard while I do my chores instead of hitting the gym or running up and down the street.
However, if you decide to purchase any one of these five leaf vacuum mulchers, you won't regret it, they all do the job more than fairly. Your choice will depend on your budget, desired features, power source and so on. I have to admit machines that can work with wet leaves were attractive options for me too, but when I considered the bigger picture - Black and Decker BV6600 was still a way to go.
Keep your garden clean, neat and well-fed with your new mulcher!